---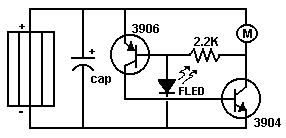 • Solar Cell

• 2500uF to 10F Capacitor

• 2N3904 Transistor NPN

• 2N2906 Transistor PNP

• FLED, Flashing LED

• 2.2K ohm Resister

• Motor
Back to top

---

• 3v+ Solar Cell ( see note )

• 2500uF to 10F Capacitor

• 2N3904 Transistor NPN

• 2N3906 Transistor PNP

• CMOS 1381J Voltage Detector

• 2.2K Resistor

• Motor
If you use a 1381J you need a solarcell that give 3 Volts or more. If you chose a other value:
C(2.0V)
E(2.2V)
G(2.4V)
J(2.7V)
L(3.0V)
N(3.4V)
Q(3.8V)
S(4.0V)
U(4.6V)
Be sure that solarcell will provide you enough voltage you need to acticate your circuit. Exemple: If you use a 1381S ( 4.0 V ) don't use a 2.7 solarcell to charge your circuit.
Back to top

---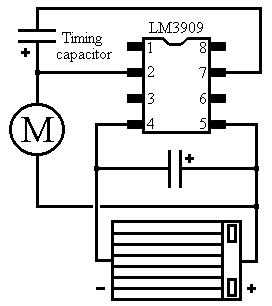 • Solar Cell

• 4700uF Capacitor

• LM3909 LED flasher

• 470uf for the timing capacitor

• Motor (M)
This is a GREAT and simple solar engine that you can build and minutes.
Back to top

---
Back to top

---
Back to top

---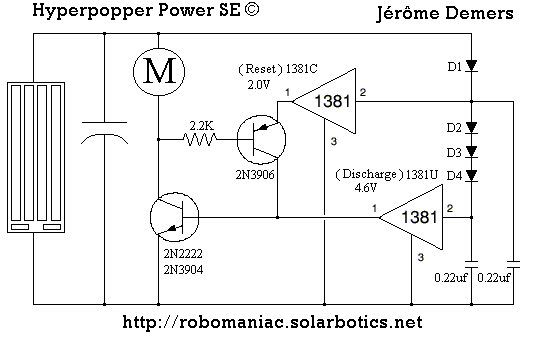 • Solar Cell

• 12 x 4700uF Capacitors

• 2N3904 Transistor NPN

• 2N3906 Transistor PNP

• CMOS 1381C ( 2.0Volts ) Voltage Detector ( Reset )
• CMOS 1381U ( 4.6Volts ) Voltage Detector ( Discharge )
• 4 x diodes 1N914

• 2.2K Resistor

• Motor
Still been tested. This circuit is suppose to drive 2 Amper motor. This circuit is the property of Bill Bigge at The Board Room . The © is for the redraw of the circuit.