- Rebuilding a dream -
Vbug 1.5
Hello,
My goal here, is to rebuild the famous walkman vbug 1.5 from Mark Tilden. Many thanks to solarbotics for the hand written note of Mark Tilden that I found on solarbotics.net.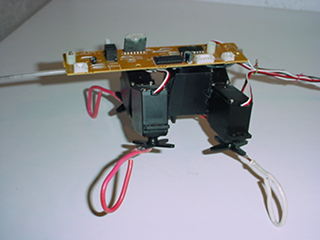 This robot is not working, it is just a dummy walker. The electronic come from old stepper controller. This dummy walker is build to give me courage and inspiration to keep going in the construction of this 5 motors walker.
I really want to reproduce this incredible walker. The mechanic is easy and for the electronic, I would love to use Mark Tilden circuit of VBUG 1.5. I have just found a nice PCB board to mount the electronic.
The circuit below is suppose to be the vbug circuit. This is NOT the original, I have clean and add some personnal notes on this circuit. Click here ( 586 Ko)to see the original circuit form Solarbotics.net.
Each part of the circuit have a number beside for identification. The circuit is divide in 4 section. This is useful for explanation.
Section 1 is the light seeking part.
Section 2 is the resistor IC socket to make some tuning with resitor.
Section 3 is the microcore.
Section 4 is the motor drive.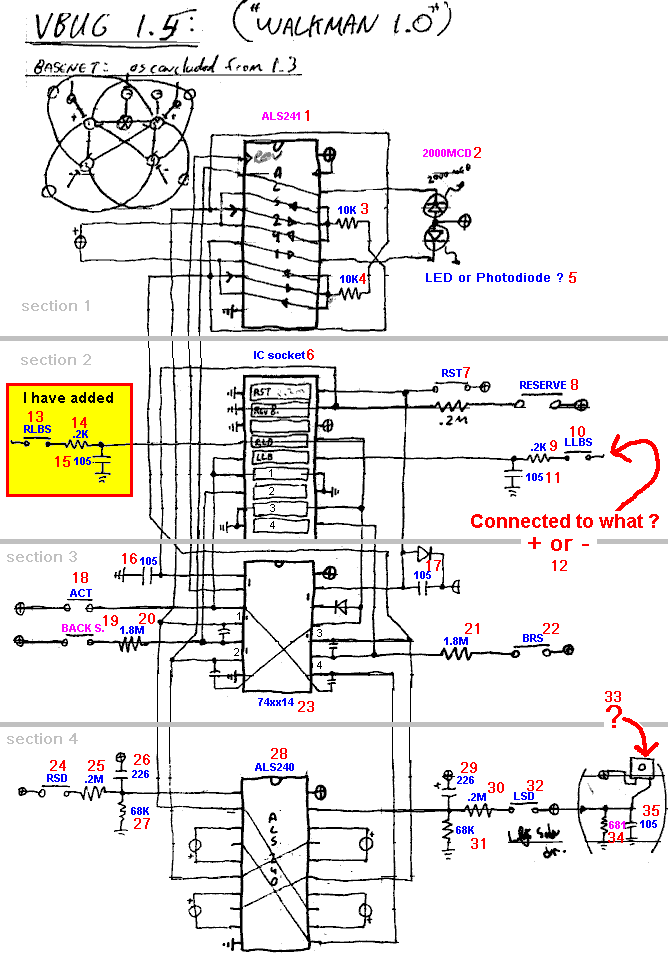 Please help and send comments or observations on the circuit above. Just fill out the comment section below. If you doubt about something, just write it :-)
What is number #33? or what does LLBS ( #10 ) mean? Every questions are in the comments section, so just write what you thing it mean.
Thank you very much for your time and every update will be put here.
Regards,
Jérôme Demers