Hello,
First, I would like to thank all the people who send me comments, questions, ideas, etc to me via the feedback form. I have receive many, many e-mail asking questions on robots. I don't respond to all e-mail but I read all of them.
Please don't be disappointed if I did answer your e-mail.
I will, one day respond to your e-mail. I am making a FAQ and you could find answer from your e-mail and other people question.
Remenber my dream robot, call vBug? I have just finish the mechanic, it is heavy. I am now working on the electronic. http://robomaniac.solarbotics.net/vbug.html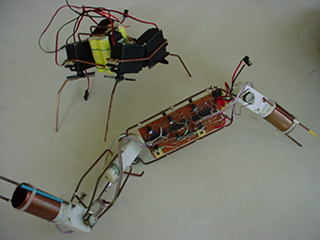 I have build a robot snake like Mark tilden gPim.
I made some SMT bicore PCB and I will post a tutorial on how to make photosensible and non- photosensible PCB.
Don't forget to check this web site, it is pretty cool http://robotics.nasa.gov
I am really busy this summer because I am with my cousin from France ( First time in Canada )
Have a great summer!
Jérôme Demers